The anti-aging treatment people just can't stop talking about in Adelaide. Platelet Rich Plasma (PRP) is the ultimate anti-aging treatment to help heal damaged tissue and achieve facial rejuvenation. Much like dermal fillers, PRP helps to restore volume and fullness to an aging face.
The "vampire facial" also known as a platelet-rich plasma treatment uses a concentrate of your own plasma which can help rejuvenate your skin. PRP on the face can stimulate collagen and elastin production which firms and tightens thinning skin, effectively smoothing wrinkles and fine lines. Because it can help boost collagen, it can also be a treatment used for improving overall skin texture and tone. PRP can be particularly good for people who have acne scarring or hyper-pigmentation.
Our highly regarded Doctors, Clinicians and Cosmetic Injector Nurses withdraw a small amount of blood from the body, and then with our advanced medical technology (centrifuge), they extract the Platelet Rich Plasma to then re-inject into the treatment area.
Not only can this be injected directly into lines and creases to help rejuvenate the skin with a natural nutrient straight from your own body, but it can also help regenerate tissue in that treatment area to promote hair growth, what we refer to as hair rejuvenation.
Some of the common treatment areas include:
Area of hair loss
Tear troughs
Temples
Cheeks and smile lines
Frown lines
Acne and facial, or body scars
If you're wanting to achieve a natural facial rejuvenation visit one of our skilled cosmetic professionals in our Adelaide clinic.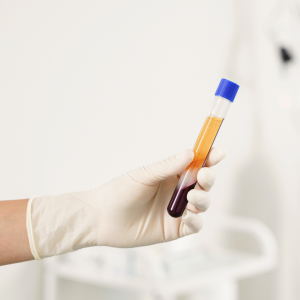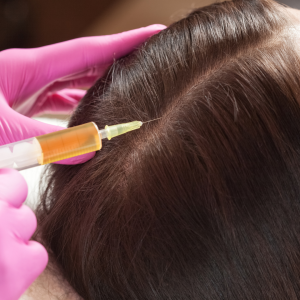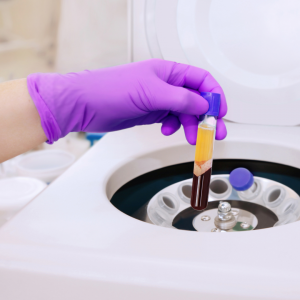 Side Effects / Potential Risks / Complications:
Infection
Pain at the injection site
Tissue damage
Bruising, redness, swelling
Skin discolouration
Aftercare
Keep the injection site clean, dry and covered for at least 4 hours after treatment.
Only apply ice to the injection site if you are experiencing significant pain and swelling.
Avoid using any prescription or over the counter anti-inflammatory medication for 4 days prior and days day after the treatment.
No strenuous exercise for at least 7 days after the treatment.
FAQ
Are there any side effects after PRP treatment?
It's common to experience minor side effects such as bruising, redness, swelling and sensitivity in the injection area for 24-48 hours following the treatment. Other less common side effects that have been reported include infection, allergic reaction and skin discoloration. Our experienced Doctors and Cosmetic Injector Nurses will inform you of all the relevant potential side effects and provide you with the appropriate aftercare to minimize the risks of any complications.
Is PRP treatment painful?
As with any needles, you may feel slight discomfort and a punch at the injection site. We do apply numbing cream to minimize the discomfort.
What areas can be treated with PRP?
The most commonly treated areas include the face, neck and places of hair loss, such as the head. Facial PRP treats issues such as acne scarring, sun damaged skin, dull/rough skin tone and texture, dark circles around eyes and wrinkles/fine lines.
Am I eligible for this treatment?
If you experience any of the following, we advise that you do not opt for PRP treatment: Sepsis, Cancer, Metabolic disorder. Chronic skin disease. Chronic liver disease, Acute and chronic infections, Platelet dysfunction syndromes.
What's the recovery time for this treatment?
PRP is considered a safe and natural treatment that does not require any hospital or anesthesia. This is why the treatment has almost no downtime and you can generally go about your daily life afterwards.