Are you starting to lose volume in your skin or just want to enhance your natural features and revitalize your skin?
At Cocoon Spa and Medical Aesthetics Adelaide, we offer a premium range of dermal fillers to help restore a youthful appearance by plumping out the skin, adding symmetry, restoring the facial structure, and ultimately lifting the face.
The type of filler we use contains hyaluronic acid which is found naturally in the body. This substance works to lock in moisture and replenish the volume and shape of your skin.
Does dermal filler hurt?
Generally, you may feel a slight pinch at the injection sight and minor discomfort where the product is being injected. We do use a numbing cream on the area and it's very dependent on your own individual pain tolerance.
What are the treatment areas?
The most common treatment areas include lips, cheek and chin.
How long does dermal filler last?
Dermal filler duration is different for each individual with factors such as skin type, metabolism, lifestyle, age and type of filler used all impacting its duration. As a general observation, dermal filler lasts from between 6-12 months.
Am I suitable for dermal filler?
There are certain circumstances where we advise you NOT to get dermal filler. These circumstances include if you are pregnant or breastfeeding, or if you are on blood thinning medication.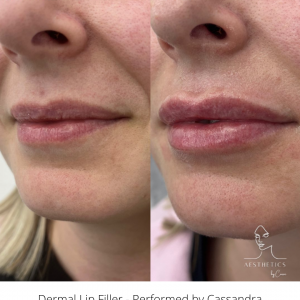 Lip dermal fillers
Dermal Lip filler is one of the most popular cosmetic treatments in the Adelaide clinic to achieve luscious and fuller lips.
Lip dermal fillers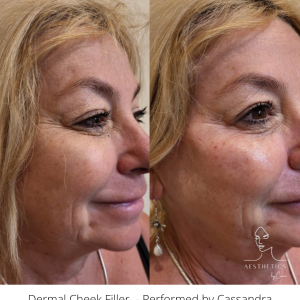 Cheek dermal fillers
Contour, shape and define your facial features with our premium dermal cheek filler.
Cheek dermal fillers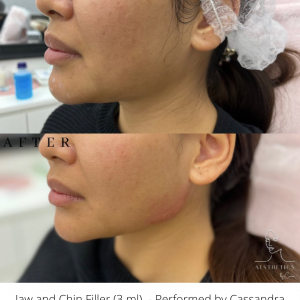 Chin & Jaw dermal fillers
Facial contouring is becoming increasingly popular in our Adelaide clinic and chin filler is the treatment people keep asking for.
Chin & Jaw dermal fillers