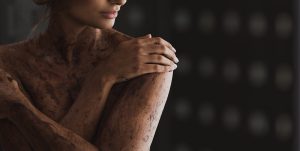 Pure Fiji's Sugar rub, their most versatile product, with its extraordinary two in one exfoliating & moisturising benefits makes this product excellent for all over body use (excl. face).
Benefits:
Fresh sugar cane crystals manually exfoliate while naturally occurring alpha hydroxyls gently buff away aging skin cells, polishing the skin clean and unclogging pores. The deep moisturising blend of oils nourish, moisturise and protects the skin, leaving it glowingly healthy.
Directions:
While in shower (away from water) apply 1 scoop evenly over body massaging in until it turns to honey. Leave on for 10mins for maximum benefits, then rinse or soak off in bath.
Can apply Pure Fiji Body Butter or Body Oil after exfoliating for extra softness and a bit of a glow.
Don't have Pure Fiji, create your own exfoliant:
1 cup granulated sugar
½ cup olive oil or coconut oil
Essential oils (optional)
Perform the same steps as above!