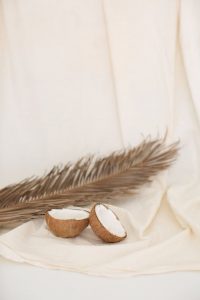 Using a warm liquified coconut oil, rub hands through the ends of your hair. Apply the coconut oil in sections, use more on the ends and less close to the scalp. Can be massaged in for a couple minutes. Wrap hair in a hair towel or up in a bun and allow the coconut oil to sit on your hair for 20 to 30 minutes after application.
Thoroughly wash the coconut oil out with Pure Fiji Shampoo and conditioner and enjoy a silky, smooth hair.
The Benefits of Coconut Oil for Your Hair
As proven, coconut oil is deeply penetrating for your hair. It leaves a subtle shine, and your hair feels moisturised for a longer period of time.