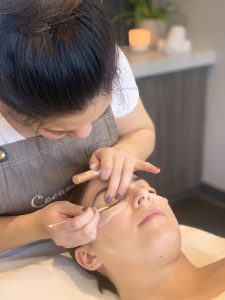 We are so excited to introduce Lash Lifting to our salon services! This treatment provides you with voluminous and curled lashes that can last up to four weeks, perfect for when you have multiple events coming up!
Before your Lash Lifting:
No eye makeup applied the day of lifting (this includes mascara, eyeliner, eyeshadow and concealer).
Contact lenses must be removed

For best results, do not use waterproof mascara or curl your lashes 2-4 days prior to your appointment

If you have eyelash extensions they need to be removed at least 1 week prior to your appointment
Lash Lift After Care:
Lash lifting is very low maintenance, however there is a little extra care required over the first 24-48hrs.
Be gentle with your lashes, no rubbing.
Do not get your lashes wet for the first 24 hours

No eye makeup or lash serums for 24 hours

Avoid waterproof mascara's
No other facial beauty treatments for 24 hours
Swimming should be avoided for at least 24 hours

Do not use harsh products on your eyes/lashes

Use of sauna / steam room is possible after 24 hours but it may weaken the effect of the lift
Book your Lash Lift online here