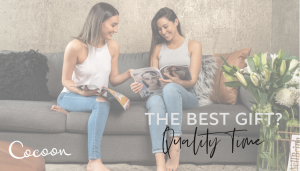 One blessing out of 2020 is that it has allowed me to slow down my lifestyle, reflect on what is most important to me while taking time out of my busy schedule to spend quality time with those who mean so much to me and my family.
Recently, I found myself pondering over what to bring to my 93yr old grandmother (Nonna) who has not been well. Every time I visit her, I bring her a little something, whether it is food, cakes, coffee or flowers. As she is becoming a little frailer and weaker and has lost her appetite, I have little to offer her except for quality time. I do know she loves scented candles so as a little gift from the heart, she gets time with me spent in a beautifully aromatic home.
She is someone so special to me, so being able to create an experience with her means that each time she walks past the aromatic candle, she associates the aroma with pure love, quality time and memories with me.  This for me is the 'absolute' gift.
These days, I feel like a lot of us buy things we want or need on impulse, rather than patiently waiting for a special occasion.  I have found buying gifts have become such a challenge lately. Buying presents for family and friends especially my husband whose birthday is in August followed by Father's Day in September and Christmas just around the corner makes it even more difficult. I am simply running out of ideas!
This year, my husband, children and I were supposed to travel to Europe. I was extremely disappointed that we could not go but so were my boys. I asked them what they wanted to do when we were away, Luca my eldest said, "I wanted to stay in a hotel, eat buffet breakfast but spend time with you, dad and Matteo without having any other worry in the world."
After experiencing the effects of isolation earlier this year, I really cherished the moments and quality time spent with those I love. Now, my goal for the future is to keep creating moments that will bring me joy and experiences.
For Father's Day this year, I chose to give my husband the gift of an experience (which also achieved what Luca missed most about not travelling this year). As a family, we stayed in a city hotel, relaxed and dined in one of our favourite restaurants. We had such quality time that we created everlasting memories and we will be back at some stage in the future.
For my husband's birthday, I organized a couple's day spa package which we loved and agreed we would do regularly. It was fun, we were child-free and it allowed us to not only relax but also reconnect as a married couple.  The bonus was I was able to enjoy his present too!
My sister and I also share the same philosophy on gifting experiences. Lucky for that, because she does not know yet, for her birthday we are going for a pedicure together.
If you are looking for a gift, I can guarantee you Cocoon has something. From a spa gift voucher, a group pampering session, beautifully scented candles, body and skincare products, we have a lovely experience ready for you to gift someone you love.
If you decide to visit us add coffee or lunch at one of our lovely locals like Rusco & Brusco or The Little Eastern and go shopping down Magill Road. Supporting local South Australian businesses is more than important than ever.
As much as this year has thrown all of us a nice curveball, loads of obstacles and plenty of frustration, I believe it has forced us to revaluate what is important to us. Quality time and experiences are right in the top of my gift list right now.