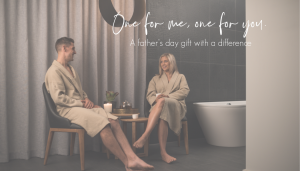 As Father's Day is fast approaching, I am struggling with gift ideas (is it just me or are Dad's hard to buy for?). Given everything that has happened this year, I am keen on gifts that involve experiences, connection and bring joy.
Enter a spa-cation (read more here).
This Father's Day, the boys and I have decided to get my husband a spa-cation (and I've decided to go along for the ride). It is a great gift idea that he wouldn't buy himself (unlike the Apple Watch he's been eying off) and since he will be more inclined to having a treatment if I go along with him, what an incredible experience to share it together. I have gotten him a gift voucher for the One for Me, One for You special, which includes 30mins Spa Time in the privacy of our own room followed by a 45min relaxation massage.
Purchase as a gift voucher here:
(Available to purchase until 5/9/20)
If you are looking for other gift ideas for Dad, we have found a pack of four infrared sauna sessions or a deep tissue massage always goes down well.