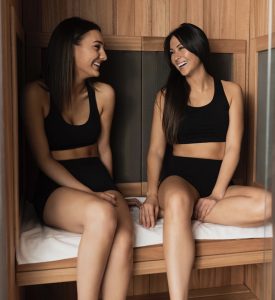 Please let me introduce my favourite child, Infrared Sauna.
I often get asked what treatment I'd recommend at Cocoon Spa, well that's really like asking who my favourite child is. It all depends on what's going on in your life, if your skin is looking dull from the constant heating blasting, or are your muscles sore from working on your kitchen table then a heavenly massage for sure! However, regardless of how you are feeling or what'd going on I can always recommend the Infrared Sauna.
I know that there are always new health and wellness trends out there, and while Infrared Sauna may seem the craze, sauna therapies have been around for centuries as a great way of detoxification. The latest advancements in technology have changed the landscape in sauna therapies by emitting specific wavelengths of infrared light into our skin to enhance the treatment benefits.
So, besides the technical reasons, why else is the Infrared Sauna my favourite treatment? I have a long list of reasons why.
It's easy to use: Let us know what you want to achieve from the session (detoxification, relaxation, weight loss) and we will pre-set the sauna to the right wavelengths to achieve your desired outcome.
 It's private: Our infrared sauna is in a designated private room, for you only. We take you to the room and you can get undressed, wrap a towel around you and hop into the sauna booth for your desired time in complete privacy.
You can chill… Treatments vary between 30 and 45mins which means I get this time to myself in a warm & cosy environment with no disturbances. I have the choice to either sit in the sauna quietly and gather my thoughts or even practice meditation. I can watch my favourite Netflix movie or TV program, or I can even listen to my favourite tunes on Spotify.
It's loaded with health benefits: The real benefit I receive and what enticed me to use the Infrared Sauna in the first place, is pain relief. I suffer from back issues and have so since I was a young child. I often find my aches and pains are worse in the cooler months and have noticed a big improvement since regular use of the Infrared Sauna.
You can book online… With so much going on in our lives, time quickly slips away, and I forget to make my appointments during office working hours. Being able to book in my sessions online means I can jump onto the computer or mobile and make a sauna session time anytime at my convenience. Book online here.
So, what should you expect from your Infrared Sauna treatment?
What I noticed the first few times is I didn't sweat a lot and psychologically, as much as I understood how the new technology works, I expected it to be super-hot and dry, which clearly, it's not. Rather than heating the air around you, the Infrared Sauna uses the full spectrum of infrared to emit specific wavelengths into your skin to heat your body's core temperature to a cellular level, where most toxins are stored. The sauna has specific programs which are pre-set at a specific temperature and time or can be customised to target different health benefits. By the third session, my body was detoxing well, and I really started to love the sessions more and more.
The more consistent and the more regularly you have a session the more beneficial it is. I would even recommend a sauna session before a massage or body treatment. The more relaxed the muscles are the better the massage will be. To be honest, the Infrared Sauna is the perfect complement to most Cocoon Spa treatments.
The difference between traditional saunas and Infrared Saunas:
Traditional hot rock and steam saunas operate at extremely high temperatures and can often feel hard to breathe in. Although you may perspire a lot to remove toxins, you may have felt that you cannot stay in these types of sauna for longer than 5-10mins.  At Cocoon Spa, our Sunlighten Infrared sauna booth emits three infrared wavelengths independently which have the ability to penetrate human tissue providing deep detoxifying sweat, by stimulating metabolic activity which helps release stored toxins. At optimal frequencies, the different wavelengths (near, mid and far) help purify our bodies from the inside out and can precisely target specific benefits.
Key Benefits of each wavelength:
Far infrared:
Relaxation
Detoxification
Lowered blood pressure
Mid infrared:
Weight loss
Pain relief
Improved circulation
Near Infrared:
Anti-ageing
Wound healing
Immunity and cell health
Final Thoughts
The type of sauna you use will often come down to your personal preference, however, many are choosing to enjoy the benefits of an Infrared Sauna over regular sauna because they don't have to feel physically uncomfortable while they use it and don't require a shower afterwards.
Remember to drink a minimum of 250ml of water prior to prepare your body for an increase in core body temperature and rehydrate with at least 700ml of water or electrolyte drink after your treatment.
Last but not least…
Our Infrared Sauna is completely COVID Safe being cleaned and sterilised after each treatment with a fresh set of towels.