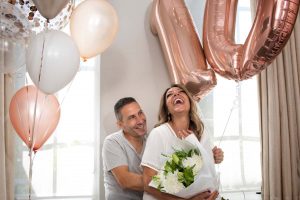 Celebrating 10 years in business and reaching a milestone, has given me great pleasure to reflect on our journey and really look back on where it all started and how much we have learned.
I always had a dream to open my own day spa. Although we only started with a handful of staff, my vision was and still is, to build a successful business based on skill & knowledge, great customer service, passion for nurturing our clientele and most importantly, the ethos of my business: I wanted to have a space for people to create their own sanctuary. 
Even though we exceeded our expectations, with a growth in our clientele, staff and sales in the first year, we also faced a lot of challenges. Although I was a qualified beauty and massage therapist, I had no qualifications or prior experience in running a business. Just shy of turning 29, I had given birth to our first son Luca just 4 months prior to starting Cocoon.
I must have been extremely naive to assume that running a day spa with ambient music playing in the background and the scent of aromatherapy wafting throughout the spa would be the ideal workplace for me. I truly believed that every person who walked into my business was going to be or want to feel the same as me. I anticipated that all staff members had the same work ethics and values as I had, and that all clients would come through the doors happy, cheerful and ready to be pampered.
Was I in for the biggest journey of my life?
I learned so much within the first year of running my spa. Even though we encountered a lot of obstacles and had to make significant changes within our workspace along the way, I never thought of quitting. In fact, I was more eager and determined to make our business work. The hours were intense, trying to balance family and business life was the most difficult, sometimes resorting to bringing Luca (who was under 1) into work and multitasking.
As the years went by, I was becoming confident and happier with the progress of the spa when we decided to grow our family again. Not only did our Cocoon family grow we also welcomed our second son Matteo into the world. WOW!! How blessed could we be? And how hard could I have made it for myself again?
Not only was I the Managing Director of Cocoon Spa, my real passion was in performing treatments to some of my wonderful and loyal clientele.  With my family life and work life, I quickly found myself spreading thin. The benefits of working alongside your staff and building a strong team were confronted with the struggles of the everyday running of a business which took a toll and deserved particular attention. That's where having a good team to take some slack and a great support network was important. Learning to let go of the reigns a bit and trusting in the process and your team wasn't easy at first, however keeping my vision and focus alight was very important.
I can definitely say, the last 10 years have resembled the term "Peeling the layers of the Onion."
Looking back, there were so many days I would break down and cry and wonder what I was thinking to have opened a business and started a family at the same time.
The hard days became harder, especially the busier we got, and the good days would come and go so quickly that I forgot to appreciate them. Luckily for me, I have the most amazing support network and have met the most amazing people who reminded me to keep pushing through and not to quit. I also started to learn how to celebrate the triumphs even if they were small ones.
It wasn't until our big move into our new premises during our 6thyear that I really felt we had achieved something big. Not only had we created the most amazing space to work in, but we started to gain recognition in the industry, and we have worked with some of the most talented individuals who have inspired me to keep striving for the best. Over the years, we have been honoured by winning some amazing awards at the Australian Beauty Industry Awards, including Best Spa, Best Spa Director and Best Spa Design to name a few. We have continued to grow, learn and help develop and give opportunities to others. We have developed strong networks and have continued to support many charities and underprivileged organisations.
During my 10 year journey working and being mentored by some wonderfully and talented individuals I have taken some important lessons away.  Firstly, and most importantly "Do your best and forget the rest". Don't focus on any other business because it detracts from what you are doing, and you waste your energy.
In order be cutting edge and ahead of the competition always 'Be authentic'. No one can ever say you are a rip off or copycat.
Change things up. Keep it interesting.  During my 10 years at Cocoon, we have certainly accomplished this.  Not only did we change simple things like our menu or introduce new product brands, but we also rebuilt the spa from scratch at our new location to accommodate new and exciting technologies, therapies and clientele.
Another important lesson was to always be integral and do things which come from the heart.  I have been into many businesses only to see employees sell me something just for the sake of making a sale and not really consider what may be in my best interest.  Working in the beauty industry and especially the wellness industry it needs to be about our clients and meeting their needs while making that sale of course.
I have also learnt to invest in your staff because you are only as good as your weakest link.  Providing ongoing training and support is critical in providing exceptional customer service.  While I may be hard too at times, remembering to stay professional at all times is very important.  As the business grew, higher expectations followed. Learning to cope with the pressures of the outside world and feedback from social media was difficult at times however I reminded myself that this business was created from a young family who only gave it their all and with absolute passion.
My final lesson which I also apply to my life in general is 'Celebrate the victories' even if they are small.  Many times we get so caught up in the manic of work and home life that we don't stop and recognise our achievements.  Cocoon has taught me its ok to stop and breath and reflect on what I have accomplished.  And at the times I forget too, God has blessed me with a beautiful family, that naturally make me forget about any work stresses.
I attribute Cocoon Spa to many of my life lessons and to the woman I have become today and look forward to the long journey ahead.
Love Leanne x