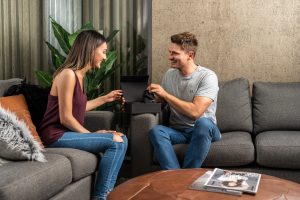 Our top 5 products from Shemana, Hunter LAB and Salt Lamps are available to help you choose the perfect gift this Christmas!
Shemana Crystal Activated Drink Bottle
Available in Amethyst, Clear Quartz, Rose Quartz and Black Obsidian
These crystal activated water bottles are designed to assist with clearing unnecessary worries and stresses from one's life so a pathway of creation can open you to your highest potential. Not to mention they are gorgeous right!
$130 each, Amethyst $140.
Shemana Crystal Therapy Mist- Heart
Available in Dream, Ritual and Crystal
The heart mist assists with self love, stability, nurturing, forgiveness, emotional healing and unconditional love. Simply spray around self and space to calm your mind, body and spirit instantly.
$33
Hunter LAB Cleansing Shave Foam
Does the man in your life need a product to moisture and hydrate his skin? Hunters Cleansing Shave Foam helps cleanse the skin and prepare and protect the face and neck prior to shaving. What is the benefit for females you ask? The scent is unforgettable!
$32
Hunter Daily Face Fuel
Avocado, macadamia and passionfruit seed oils are combined in this smooth and nourishing moisturiser to assist with clearing irritation and correcting skin-ageing free radicals. The perfect stocking filler!
$54
Salt Lamps
Our salt lamps are the perfect feature in any room of your home to promote positive energy, soothe allergies, boost your mood and improve your sleep. Purchase these lamps in store at Cocoon.
$49.95
Shop these inclusive ranges in store or selected products are available to purchase here: