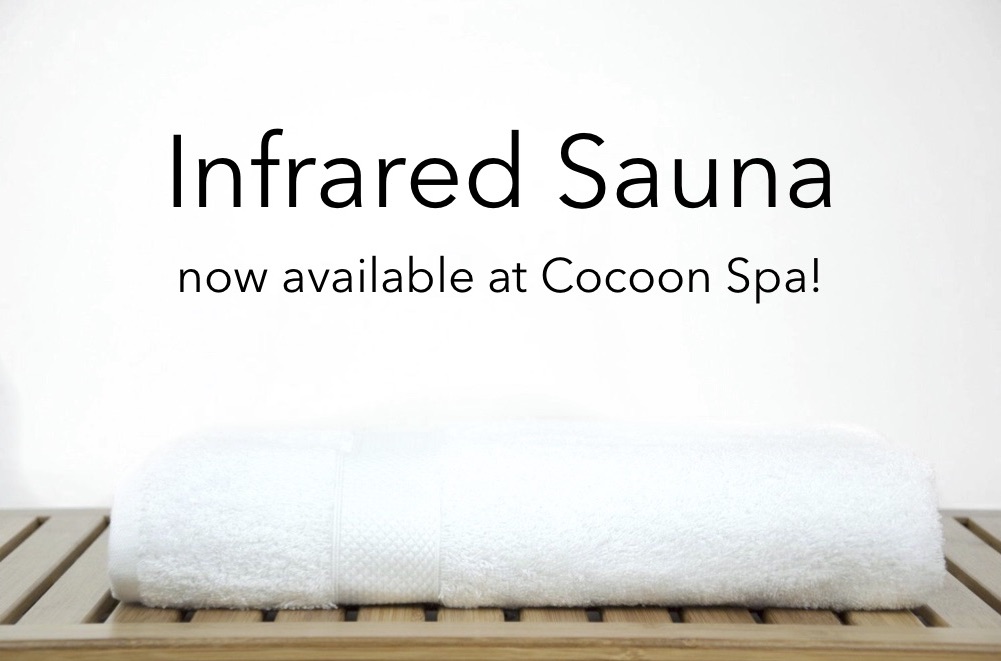 We are so excited about the newest addition to the Cocoon Spa Menu, our Infrared Sauna! The Infrared Sauna offers so many amazing benefits and is a great addition to any spa service or as a treatment on its own. We've put together a list of everything you need to know to get the most out of your sauna experience…
What are the benefits of infrared heat?
There are 3 types of infrared heat, all of which provide different benefits
Near Infrared

 

Mid Infrared

 

Far Infrared

 

– Cell health/ immunity

 

– Pain relief

 

– Weight loss

 

– Skin purification
– Improved circulation

 

– Detoxification

 

– Pain relief

 

– Weight loss

 

– Blood pressure reduction

 
The best part is, your session can be customised to assist with any goals you want to achieve. The more frequent your sessions, the better the results!
The Warm Up: before your sauna session
Try to drink a minimum of 250ml water before your sauna session. The infrared will cause your core body temperature to increase so it's important to be hydrated before you start!  
During your sauna session 
The sauna should be at least 38℃ when entering (don't worry we'll preheat it for you!). Keep in mind, the temperature will continue to rise throughout your session. For best results, the optimum temperatures are between 38℃ and 58℃ so high heat is actually not necessary. Some people may not even sweat during their first session but thats okay, you will still get great results! 
Listen to your body 
It is important that infrared therapy is a progressive treatment. We recommend 30 minutes for your first session and gradually increasing your sessions to 40 minutes. Make sure you listen to your body, it shouldn't be uncomfortable! 
Netflix and Chill 
That's right, you can even catch up on your favourite Netflix shows during your session! Equipped with an LCD screen and built in speakers, we've set up Netflix and Spotify to add a little entertainment during your sweat sesh. 
The Cool Down 
After your sauna session, it's important to rehydrate with at least 250ml of water. Dry yourself off, cool down naturally or finish with a refreshing cold shower. 
So what are you waiting for? We are now taking appointments for our infrared sauna with online bookings available here! For more info on options and pricing click here or call the spa on 8333 3195 to speak to our friendly staff!